Special guest: Dr. Danenberg, DDS, is a periodontist and was in private practice for 44 years, incorporating ancestral nutrition and lifestyle with his leading-edge laser protocol to treat periodontal disease. "Dr. Al" retired in 2018, but continues to consult with patients all over the world, as well as discuss his unconventional cancer journey. He was diagnosed with incurable bone marrow cancer in September 2018 and was given 3-6 months to live; he rejected all chemotherapy and is thriving today. Dr. Al received advanced training in evolutionary nutrition from the Kripalu Center for Yoga and Health, as well as The Center for Mind-Body Medicine. In 2014, he became a Certified Functional Medicine Practitioner (CFMP) and a Certified Primal Health Coach. Then, in April 2017, Dr. Al earned the designation of "ADAPT Trained Health Professional" from Kresser Institute, and in 2020, he was appointed Chair of the Periodontal Committee for the International Academy of Biological Dentistry and Medicine (IABDM). His book, Crazy-Good Living, is based on ancestral nutrition and lifestyle.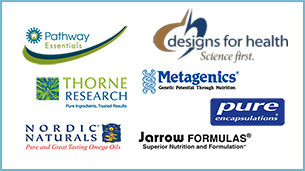 Dana Laake is a licensed nutritionist providing preventive and therapeutic medical nutrition services for over 25 years. Her practice includes the nutritional evaluation and treatment of the full spectrum of health issues affecting children and adults. Dana holds a Master's degree in nutrition from the University of Maryland.
Dr. Kevin Passero a Doctor of Naturopathic Medicine has trained extensively with leading doctors in the field of natural medicine. In his practice, Dr. Passero focuses on restoring harmony to both the body and mind using advanced protocols that incorporate botanicals, homeopathy, vitamins, and nutrition.
Kate Costello focuses on functional nutrition by emphasizing the healing power of whole-food nutrition and wellness practices like movement, stress-reduction and sleep hygiene. Kate earned her graduate degrees in nutrition and health coaching at the Maryland University of Integrative Health, and works as a nutrition advisor at Village Green